Travis Movius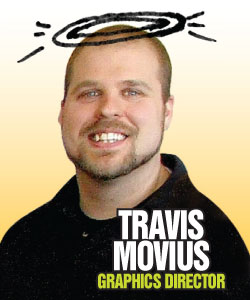 Graphics Director
A Lewiston native, Travis joined the Printshop design staff in 2000 after graduating from Lewis-Clark State College with an associates degree in Graphic Arts Printing Technology. Now Graphics Director, Travis is a talented graphic designer providing a range of design services, from printed collateral to advertising.
Quote: "You'll find a friendly, personable atmosphere at the Printshop with people who are willing to go the extra mile for customers."
Serious about...
Highest quality design;
Excellent service in a timely manner;
Quality control at all stages of production.